Super delishhhh no bake cheesecake for my vegan beautiess!
There is nothing better during summer than to have a gorgeous dessert that is light but full of flavour. So I thought I would share this berry berry delicious treat with you. The best part is you just whip all the yumminess together and freeze so there is no need to burn or bake!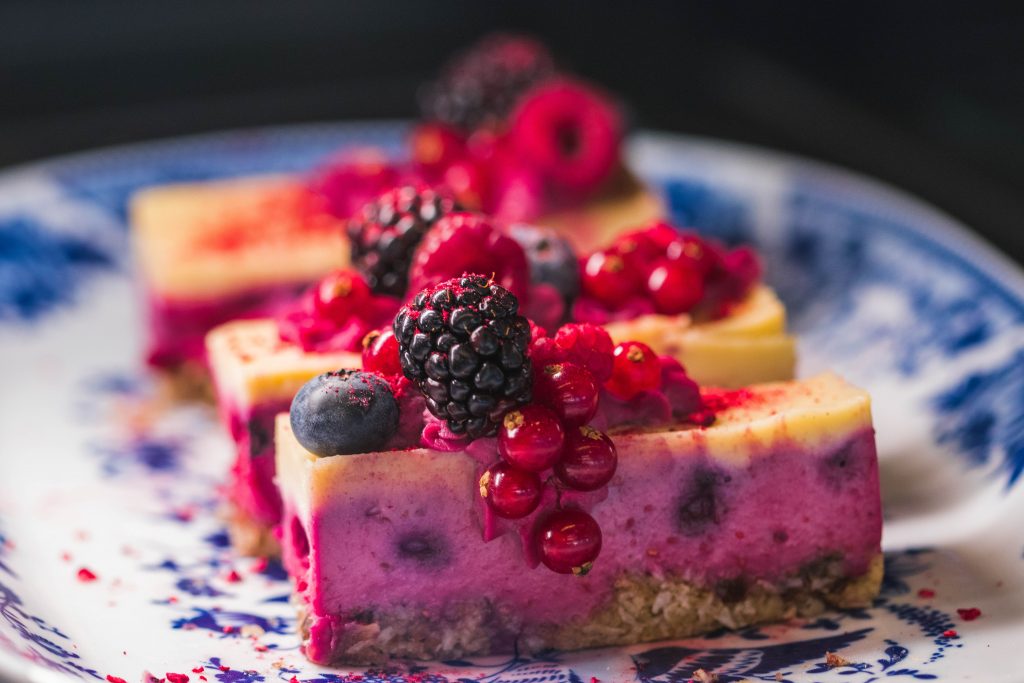 INGREDIENTS
For base crust
½ cup almonds flakes
½ cup walnuts
1 cup pitted dates
1/4 tsp salt
2 tbsp organic maple syrup
4tbsp melted coconut oil
BONUS: you can switch the dates for dried apricots but you will have to soak them first and any type of nuts should work if you have a preference. You could also add vanilla bean paste for extra flavour.
Cheesecake filling
2 cups raw cashews, soaked
⅓ cup pure maple syrup
2 tbsp vanilla extract
1 cup coconut milk (or any non dairy milk for no coconut flavour)
2 tbsp fresh lemon juice
¼ cup coconut oil melted
FOR MANGO LAYER: 1 fresh mango, peeled and chopped
FOR BERRY LAYER: ½ cup fresh or frozen blackberries and/or raspberries
½ cup fresh or frozen blueberries
METHOD
1. Grease the bottom of a 6" springform circular tin with coconut oil and place all the base crust ingredients in a food processor. Blend until the mixture clumps together and resembles a loose, sticky dough.
3. Press the base mixture into the pan and freeze whilst making the filling.
2. Prepare filling: Soak the cashews for at least 1 hour in boiling water (or overnight in room temperature water), then rinse and drain. The softer they are they easier they will blend. Blend all cheesecake filling ingredients except the fruit until creamy and smooth. Adjust for sweetness.
3. Scoop out 1 cup of mixture and set aside for mango layer.
4. Berry layer: Mash the berries with a fork and pass through a sieve to remove the seeds.
5. Add berry mixture to the main cashew mixture and blend again until completely smooth. Add a few whole blue berries to the blended mixture to add a tasty mid-cake surprise. Remove base layer from the freezer and pour and smooth berry mixture over the base. Freeze for one hour.
6. Mango layer: Blend mango pieces and the one cup of cashew filling that was set aside. Make sure ingredients are blended until dense but pourable. Remove frozen layer cake from the freezer and spread mango mixture over the top.
7. Return to freezer and allow to firm up at least 3-4 hours.
8. Remove from the freezer to thaw for at least 10 minutes before eating. Top with berries and coconut shavings to decorate.
BONUS: slice into bite size portions. Wrap tightly and freeze to spread out usage of your delicious creations.